No credit card needed
Make remote collaboration engaging and productive in minutes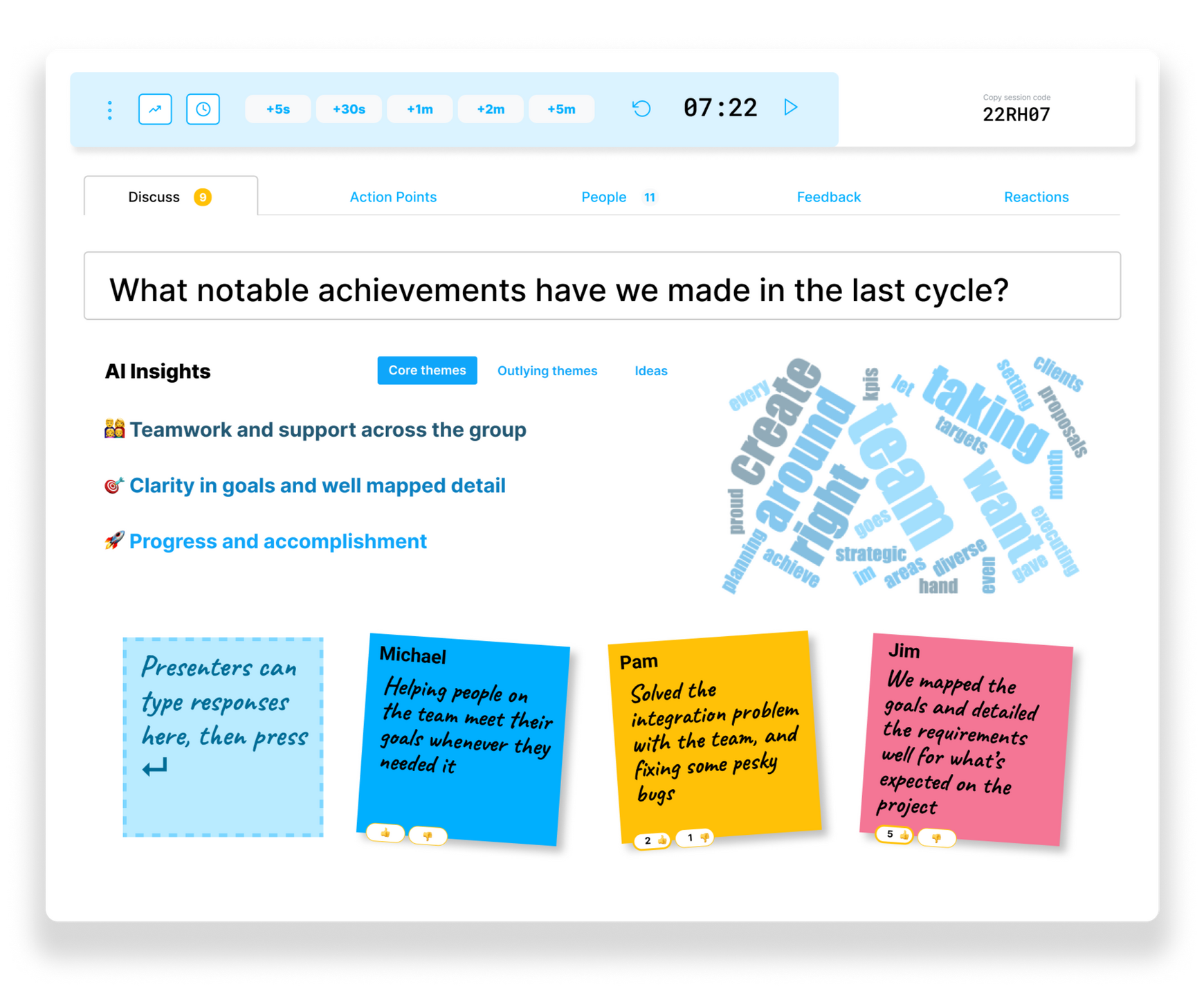 Stimulate conversation in daily team catch-ups, retrospectives, and workshops
Prompting your team and getting little to no engagement sucks. Use the discussion feature to poll everyone for their opinions and voice their thoughts. Then seed the discussion with their responses.
Create gamified unwind and ice-breaker sessions
Remote fatigue gets everyone down. Shake up sessions by creating spontaneity and delight. Use our quiz templates or create your own to generate excitement. Make 5 minutes of each meeting a little more enjoyable; or make training more engaging.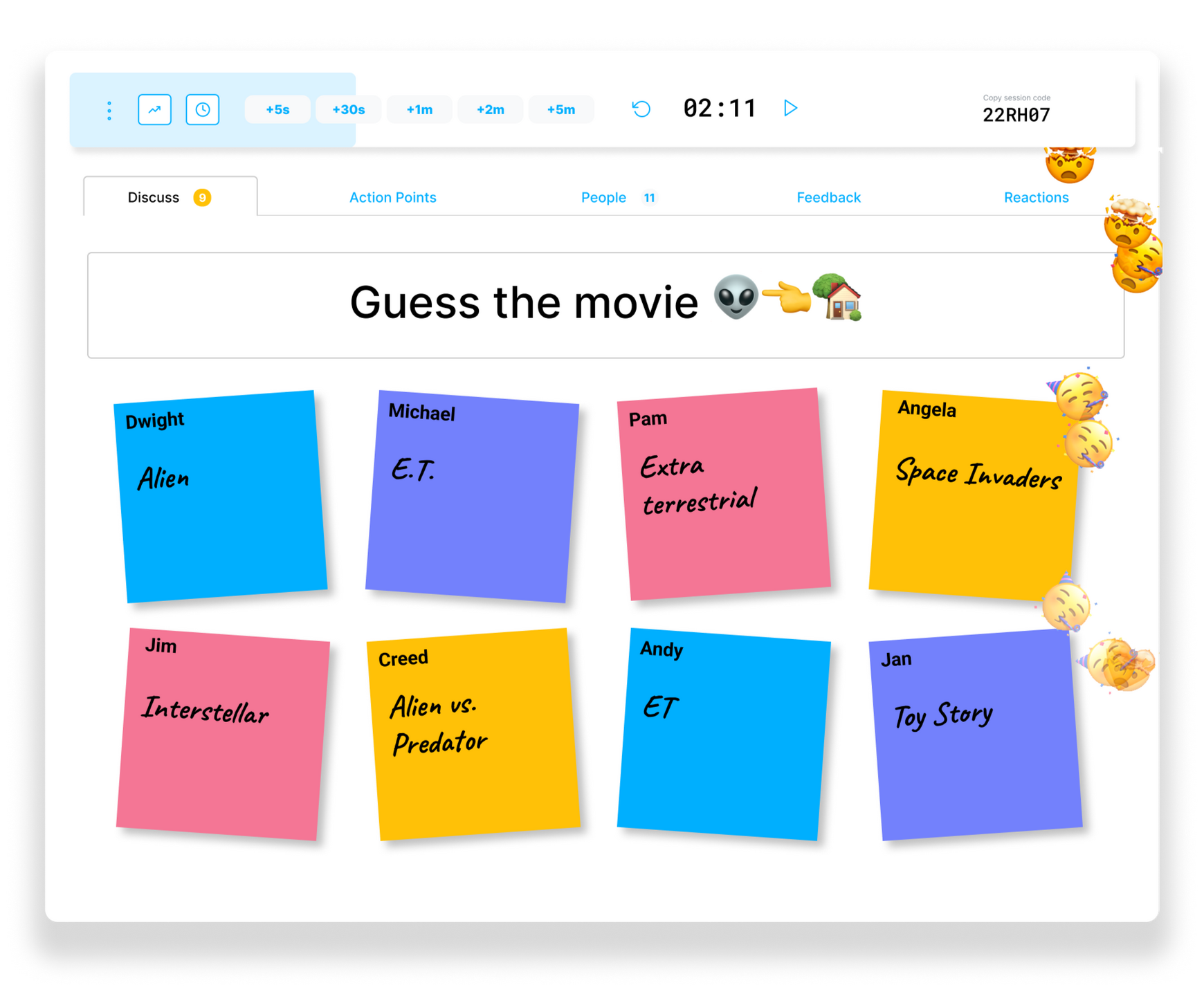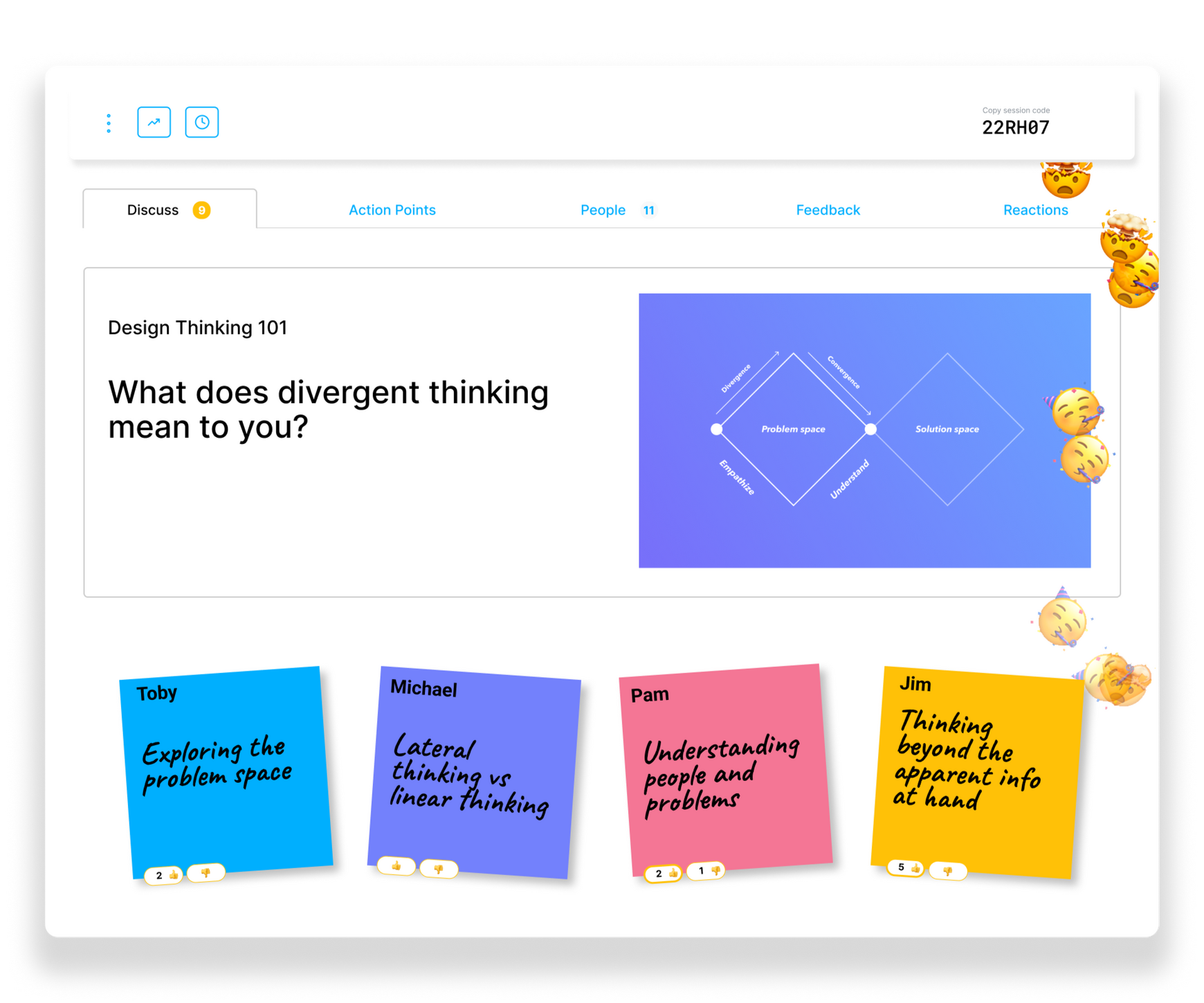 Run Q&A sessions with questions sourced from your team
Remote team meetings can get us all down. One person speaks, and everyone else just "listens". Source questions from your team and let everyone vote on the ones that matter.
---
Inspired poll discussions
Spark spontaneity and conversation in your daily stand-ups, retrospectives, problem mapping sessions, and more. Use word clouds and sticky notes to boost your sessions.
---
Engaging reactions
Let everyone express themselves in a delightful way. Eliminate the feeling of speaking to the void, and clearly see raised hands.
---
---
Realtime Q&A and voting
Run a team or company wide questions and answers session by sourcing questions and votes of interest from everyone.
---
Ice breaker discussions
Whether you're running training sessions or want to break the ice in a fun way, use our quiz templates or create your own excitement.
---
---
Immediate feedback
Gather real-time ratings and comments on your session quickly and easily. Give the room a voice, and gain insights to improve.
---
Template library
Leverage our template library that contains productivity tools, fun remote sessions, Q&A ideas, and tools to get your team bonding.
---
"Coming together is a beginning, staying together is progress, and working together is success."
– Henry Ford
© A project of Viszen (Pty) Ltd. All rights reserved.
Thank you!
You're in the queue! Follow us on Twitter @InteractsApp to keep up with updates and news.